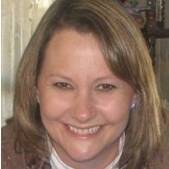 Celebrating the Life and Legacy of Mary Ellen Soignier Stapleton
This scholarship was established to honor the life and legacy of Mary Ellen Soignier Stapleton, a 1990 ULM Accounting graduate. Ellen battled breast cancer much like she lived her life, courageously and with no regrets. She will be forever honored and remembered for her unwavering faith in God, sweet spirit, and desire to choose education as a vehicle to assist others. She demonstrated kindness in her community without expectation of recognition or reward. Her belief was that education accompanied with hard work could bring unlimited opportunities and achievement. Therefore, it is fitting and proper that her legacy be preserved through this scholarship fund which will support and encourage others with similar values.
Education was extremely important to Ellen and her family. She was the ninth child born in a family of eleven children to Mr. and Mrs. John Chester Soignier. Ellen and all her siblings attended St. Frederick High School in Monroe. After graduation, she enrolled in ULM pursuing a bachelor's degree in Accounting. While attending ULM, Ellen worked part-time to pay for tuition and books.
Accounting classes were among Ellen's favorite especially since she met her husband Jimmie Stapleton in class. Both were full time Accounting students and working multiple part-time jobs. Ellen and Jimmie believed education and hard work would open new opportunities. After graduation, Ellen began her professional career in Accounting with a nursing home company in Shreveport. Likewise, Jimmie used his Accounting degree to launch a career at KPMG.
Life became busy as they started their family and welcomed three beautiful children, Christian, Madison and Faith with whom they shared their passion and love for education. Ellen spent many hours volunteering at their school and church helping students, teachers, and administrators even after she was diagnosed with breast cancer.
In spite of facing extraordinary challenges with breast cancer, Ellen continued to have relentless faith, courage, and determination to pay it forward. She enjoyed helping with various groups and encouraging others at school, church, work or home. In an effort to give back to the community, Jimmie and Ellen started a hospice company in 2007. The company is still in business today and continues to help others by assisting with medical, spiritual and social needs of patients and their families at a time in life where it is most needed.
We are celebrating Ellen's life of 41 years with this scholarship fund. She always had her eye on the future, helping nurture and educate others. The applicant needs to demonstrate that he/she is able to maintain a 3.0 GPA while working a minimum of 20 hours per week in pursuit of a degree. An annual award of $4,000 ($2,000 per semester) will be extended to the most deserving ULM student in the College of Business and Social Sciences.