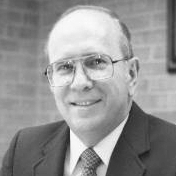 Dean Van McGraw
Growing up on a rural Louisiana farm where his father worked as manager, Van McGraw believed education and hard work would open opportunities for his life.
As valedictorian of his class at Northwestern State University, he earned a Bachelor of Business Administration on a scholarship, and a Master of Business Education while working as an instructor. His diligence earned him recognition in the Senior Hall of Fame and as a Distinguished Military Graduate, and he was selected as the Commencement Speaker at his master's graduation. During this time, he began serving his country as a captain in the U.S. Army and would continue serving in the U.S. Army Reserves for 10 years.
In 1959, McGraw joined the University of Louisiana Monroe, then-Northeast Louisiana Junior College, as an instructor in Business Administration. Supported by a Ford Fellowship in Business Administration, he earned his doctorate from Louisiana State University in 1966. He was promoted to Professor of Management and head of the Department of Management and Marketing.
Ten years later, he was promoted to Dean of the College of Business Administration. McGraw's leadership grew enrollment, earned national accreditation of the undergraduate and graduate programs by the American Assembly of Collegiate Schools of Business, and merited the designation as Louisiana's Small Business Development Center.
In 1978, the college received recognition by the Southern Association of Colleges and Schools with "an outstanding job of developing a quality College of Business Administration." The Master of Business Administration program was awarded a Commendation of Excellence by the Louisiana Board of Regents in 1981 after review by a nationally-recognized team of consultants.
According to McGraw, the building process involved the setting of yearly goals and objectives as well as meticulous attention to detail, such as answering every letter and phone call. He credited his faculty and the support of the university administration with the success of the program.
To expand the impact of the college and university, McGraw authored more than 100 papers, articles, and books, served as a leader of community organizations such as United Way and the Ouachita Parish Economic Development Committee. He presented over 75 professional development courses and programs for local corporations on topics such as time management, communication, cooperative education, improving managerial effectiveness, and motivation.
While these accomplishments were rewarding, his true love was teaching, interacting with the students, and seeing them succeed. During the school holidays, some students could not return home, so he and his wife, Pat, would host them at his home for Thanksgiving or Fourth of July feasts. He noted when a student was absent, and he would call to see if they were ill or needed help making up the assignments.
His night class students, many of whom had already worked a full day at their jobs, were shocked one evening to see him "eat the chalk" while teaching (before class he placed candy cigarettes on the chalk tray) in an effort to engage their waning attention. Students were impressed with his white 1965 International pick-up truck that he drove and even more surprised when he arrived on campus on his maroon Honda Goldwing motorcycle.
Former student, Michelle McEacharn, Ph.D., shared, "At an especially pivotal point in my life, when my hopes of ever finishing a degree were virtually nonexistent, Van McGraw noticed me. Unexpectedly and uninitiated, he approached me and changed my life forever … just by noticing who I was and what I could potentially do. His words to me: 'There are doors waiting for you to open them. You need to open them.' Because of him, I did open the door to a college education and multiple degrees. Now, as a ULM accounting professor, I get to carry on his work, transforming lives for students."
Her story is indicative of many of McGraw's students.
McGraw retired from administration in 1989 so he could once again focus on teaching students. He served as Director of the Business Cooperative Education Program until 1991 and continued teaching as Professor of Management until 1996. He was named Professor Emeritus of Management and Dean Emeritus in 1991. In 1992, he was selected by Omicron Delta Kappa as an Outstanding Faculty Member in the College of Business Administration.