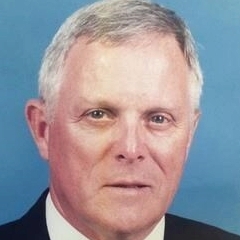 Don Weems
Don started his career at NLU (ULM), where he earned his BBA and MBA, and served in various roles from 1976 until his retirement in 1999. His positions at the university included: Coordinator of School Services; Director of Alumni Affairs; Associate Director of Development; Associate Director of University Advancement; Director of Admissions; and Instructor of Economics and Marketing. During his employment at NLU/ULM, he earned many accolades and awards, including: the ULM Service Award, the ULM Golden Arrow Award, the ULM Scoggins Award, the Garland Shell Award, and the Golf Team Partner/Wallace Jones Award. Weems acted as an advisor for several campus groups, including Omicron Delta Kappa, Beta Gamma Sigma, and was the founding father of ULM's 31 Ambassadors (NLU 31). He also played a pivotal role in the revitalization of the Prep Staff on ULM's campus. His ability to breathe life into student life was remarkable. He was integral in the development of the popular tailgating area known as The Grove, and well-loved events that have become annual traditions, such as Oozeball and Chili Cookoff. Throughout his years at ULM, Don also served as Alumni Association President, President of the Booster Club, as well as being an Alumni Association Life Member, ULM L Club Member, and ULM Golf Team Partner Member.
Upon his retirement from ULM, Don became an entrepreneur in the restaurant business as co-owner of WaterFront Grill on the bayou. As with everything else, Don approached this endeavor with the same vibrant dedication as his previous career in higher education. After opening the restaurant, he soon became active in the Louisiana Restaurant Association, serving as Vice Chair and Secretary before becoming Chair of the organization in 2007. He also served as Chair of the LRA Education Foundation, and was awarded the Presidential Leadership Award. His highest honor as an entrepreneur was receiving the prestigious Louisiana Restaurateur of the Year Award in 2002.
Don Weems was well-known around town, and he thrived off of helping others. His commitment to North Louisiana was evident in his active involvement with the Monroe Chamber of Commerce, Leadership Ouachita, and Northern Exposure. He enjoyed many years as a member of the Optimist Club, and was twice honored as Optimist of the Year.
Throughout his careers at both NLU/ULM and WaterFront Grill, Don touched countless lives. He befriended legions of people, always treating those in his presence with the utmost respect and dignity. A dear friend, beloved mentor, educator, and employer to so many folks over the decades, Don will be fondly remembered and deeply missed for many years to come. He was a tremendous human being of the most commendable character, the best of the best.