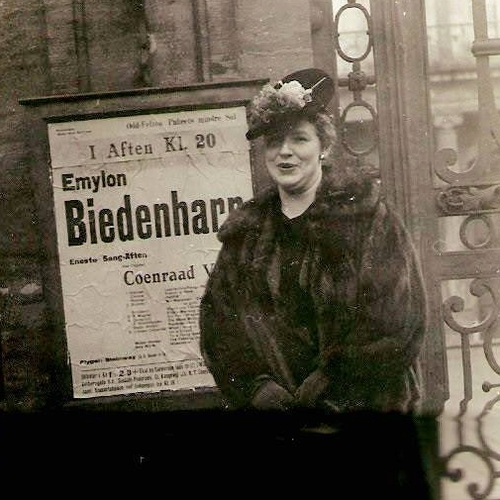 Emy Lou Biedenharn
Emma Louise "Emy-Lou" Biedenharn was a noted opera singer and philanthropist from Monroe, Louisiana. The only daughter of Joseph Biedenharn, the Coca-Cola bottling magnate and co-owner of the company that became Delta Air Lines, she used her inheritance to create the Emy-Lou Biedenharn Foundation in 1971, which supports the arts in northeast Louisiana. The Biedenharn family home became a museum upon her death, and adjacent buildings on the property exhibit her prized collection of antique Bibles and a historical display of the globally popular soft drink that gave rise to the family fortune.
Biedenharn was born on October 5, 1902, and was named after her two grandmothers. She attended DePauw University in the early 1920s but left before graduating to pursue a singing career. She enjoyed a fourteen-year career as a Wagnerian contralto in operatic performances in pre–World War II Europe and the United States. She was living in Denmark when Germany invaded Poland to start the war in 1939. She soon returned to Monroe, where she remained in her father's home, never marrying, until her death forty-five years later. At six-foot-four and approximately 300 pounds, Biedenharn was an imposing figure with an impressive voice. Famously good-natured like her father, she had a laugh that could be heard "around the corner," and her version of "God Bless America" was known to move people to tears, according to her cousin A. Leland Gwinn.
Biedenharn began her extensive Bible collection with a facsimile of the Wycliffe Bible (1848), a gift from her father upon her return from Europe. The collection includes rare and historical Bibles, including an original 1611 King James Bible, and art Bibles. Her father obtained one page of a Gutenberg Bible (1454–55) that was sold a sheet at a time.
In 1962, ten years after her father's death, Biedenharn wrote Biedenharn Heritage: 1852–1952, a family memoir. Her civic and cultural legacy extends to the University of Louisiana Monroe campus, which features the 284-seat Emy-Lou Biedenharn Recital Hall and maintains the Emy-Lou Biedenharn Endowed Chair in Music. The Biedenharn family home, built in 1913, is also known for its walled garden, inspired by Emy-Lou's visits to Kent, England. Known as ELsong Gardens, the manicured landscape showcases Biedenharn's affinity for plants and flowers. It features thousands of flowering plants, extensive sculptures, a conservatory patterned after fine English glass houses, and a large fountain. The Biedenharn Museum and Gardens remain a top tourist draw in Monroe, annually drawing between 25,000 to 35,000 visitors.