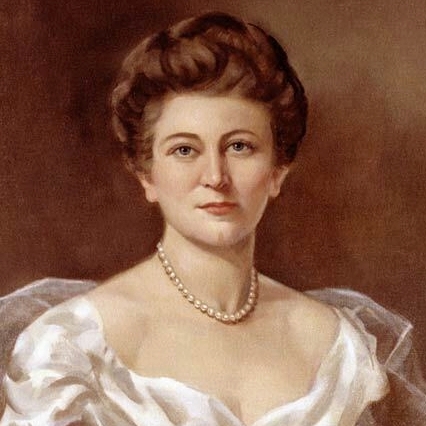 Lettie Pate Whitehead Foundation
Lettie Pate Whitehead
Lettie Pate Whitehead Evans was a generous philanthropist and accomplished businesswoman. She was the wife of Joseph B. Whitehead, one of the original bottlers of Coca-Cola. At his death, she assumed management of his business affairs, establishing the Whitehead Holding Company and the Whitehead Realty Company and leading the Coca-Cola Bottling Company in Atlanta. She also became one of the first female directors of any major U.S. corporation when she was appointed to the board of The Coca-Cola Company in 1934, a position she held for nearly 20 years.
Mrs. Whitehead felt a keen sense of duty to those in need. Bowed by the grief of losing her first husband and two sons, she devoted herself to faith and philanthropy. Tucked in the pages of her personal scrapbook is a quote she lived by: "I shall pass through this world but once. Any good therefore that I can do or any kindness that I can show to any human being, let me do it now. Let me not defer or neglect it, for I shall not pass this way again."
Mrs. Whitehead gave generously to many charities in Georgia and Virginia and was a trustee of Emory University, Agnes Scott College and the Virginia Museum of Fine Arts. Her benevolence also extended to England and France – she personally supported the Queen's Fund for air raid victims, furnished ambulances for the French, and served on the board of the American Hospital in Paris.
To those who knew her well, Mrs. Whitehead's greatest legacy was her genuine concern for others. Atlanta lawyer Hughes Spalding wrote of her, "Great works of Christian charity do not come out of the blue like a stroke of lightning. They require the inspiration of a gentle and guiding hand. They require the tender touch of goodness, implanted in their hearts by a deep sense of obligation to our neighbor and by the love of God. Mrs. Evans makes it her business to go about the world doing good."
Impact
The Lettie Pate Whitehead Foundation makes grants in the areas of general undergraduate education, health education, independent education, and elderly care. In 2021, 211 grants were awarded to Southern non-profits, totaling $53,923,481.